Left Turn On Blue is a 12-piece Seattle-based horn band specializing in classic soul, blues, funk, and swing.
LTOB's killer horns, powerhouse vocals, and dynamic rhythm section get everyone up on the dance floor!
You can see Left Turn On Blue all around the greater Seattle area.
---
Come party with us Saturday, January 27th from 8 to 11pm at 192 Brewing's Lake Trail Taproom in Kenmore, right on the Burke-Gilman Trail. 192 Brewing offers strictly Washington-made beers, wines and ciders. At any point in time they'll have up to 14 Beers and ciders on tap, and a selection of red and white wines from around the state. They also offer a great array of beer- and wine-friendly snacks, sandwiches and salads, and a kids menu! Their giant indoor warehouse space is all ages and dog friendly. Get out those dancing shoes and come join us for an evening of music, fun, and great food and drink!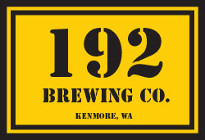 And you can always check our calendar page to see when we're playing next!